It's already time for our review of A Shepherd Looks at Psalm 23 by Phillip Keller. This book has been very encouraging for me in my Christian walk. There is so much in it, it's impossible to take it all in reading it just once.
I thought I'd do this post a little different and give a quick highlight from each chapter, sharing something that stood out to me.
Chapter 1 The Lord Is My Shepherd:
---
Who is our Shepherd? The Lord, the one who created Heaven and earth and everything in them. And He is OUR Shepherd, the One who cares for us by day and by night. He wants to have a personal relationship with each one of us; He wants us to be His sheep.
Chapter 2 I Shall Not Want:
---
"I shall not want" doesn't mean Christians will never be in need or have trouble. Instead it means that when we have complete trust in God, we will be content with what He sees fit to give us. We will know that He is ever looking out for us and if He withholds anything from us, He has a reason for doing so.
Chapter 3 He Maketh Me to Lie Down in Green Pastures:
---
Just like sheep, we can't rest well if there are problems in our lives. Jesus, our Good Shepherd, takes care of us and gives us His peace so that we can rest in His green pastures.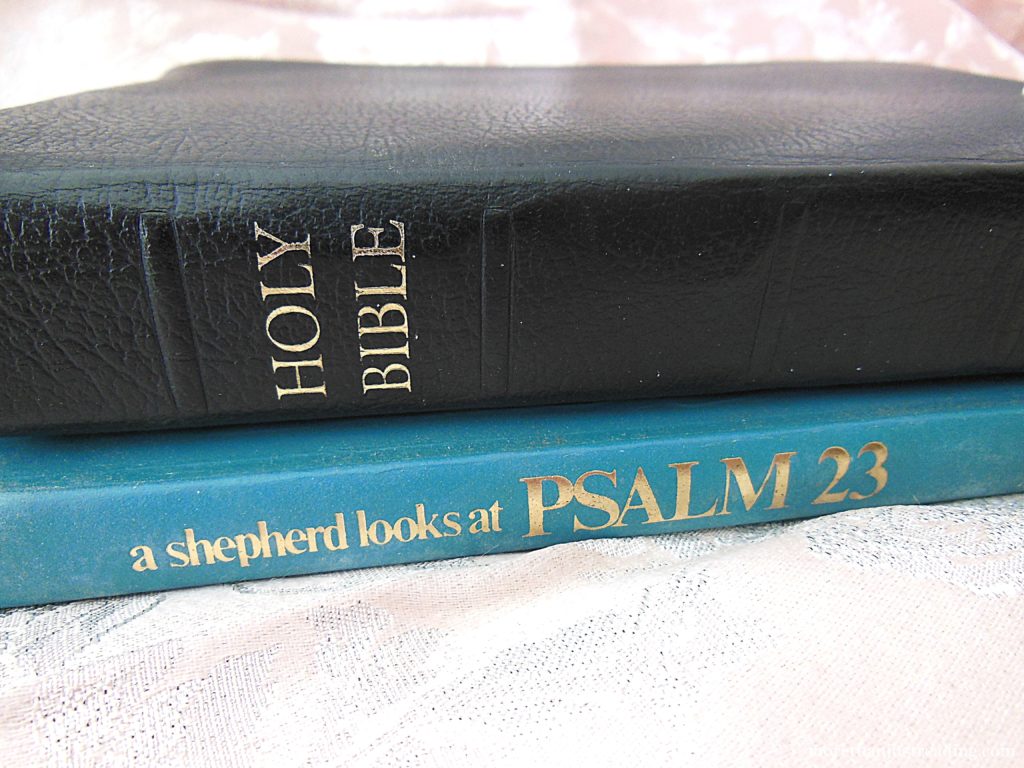 Chapter 4 He Leadeth Me Beside The Still Waters:
---
One type of still water is the early morning dew on the grass and plant leaves, and the sheep love eating the dewy leaves. We can have our thirst quenched in the still waters of early-morning quiet time with the Lord.
Chapter 5 He Restoreth My Soul:
---
We all fall. We are fallen, sinful humans, and even as Christians, we still do things that are displeasing to God. But in the midst of our failures, He is ready to restore us, to put us back on our feet, as a shepherd does with a cast sheep.
Chapter 6 He Leadeth Me in the Paths of Righteousness for His Name's Sake:
---
Left to themselves, sheep will quickly ruin a pasture. A good shepherd must move them from pasture to pasture for their own good as well as the good of the land. Left to ourselves, we quickly run to destruction. But when we belong to Jesus, He leads us in His path, and we can be a blessing to those around us.
Chapter 7 Yea, Though I Walk Through the Valley:
---
Following Jesus isn't always easy. The valley of the shadow of death is a very real, very difficult place. But Jesus walks through it with us; not for one second does He leave us alone. And when we come out of the valley, our faith is stronger, and our relationship with the Shepherd is deeper.
Chapter 8 Thy Rod and Thy Staff They Comfort Me:
---
The rod isn't always pleasant, but it's necessary, both for the wayward sheep and the wayward Christian. And it is used for protection as well. The staff is a wonderful picture of Jesus' love for us and the way He draws us close to Him, actually wanting to spend time with us.
Chapter 9 Thou Preparest a Table Before Me:
---
Jesus has gone before us, preparing the way for us, just as a shepherd goes before his flock, preparing the tableland pastures for them. Jesus wants us to thrive as Christians. He wants us to be content and joyful, and so He prepares the way for us, so that we can have a victorious Christian life in His service.
Chapter 10 Thou Anointest My Head With Oil:
---
The petty irritations, the day-to-day annoyances, these are to us what the flies and other insects are to sheep. We need a regular anointing of the Holy Spirit just as the sheep need to be anointed with oil to be able to handle their troubles. The oil of the Holy Spirit also helps in times of conflict with other individuals.
Chapter 11 Surely Goodness and Mercy Shall Follow Me:
---
No matter what happens, we can say, as a contented and happy sheep would say, that we will have goodness and mercy all our days, goodness and mercy that comes from the Lord. It is now that we should ask ourselves, are we extending goodness and mercy to others?
Chapter 12 I Will Dwell in the House of the Lord For Ever:
---
A well-cared for sheep is content in its flock, under the care of a loving shepherd. We as Christians, who are cared for by a loving Heavenly Father, should also be content in the flock where He has placed us. That is the best possible place that we could ever be.
I really enjoyed all the first-hand accounts that Mr. Keller shared in this book. The message was made clearer with the real-life illustrations. We really are like sheep…which isn't always a complimentary thing.
Let me know: how far are you in the book. Have you started yet? It's never too late to jump in and join us in our one book a month reading challenge if you haven't already joined! Just send me an email or leave a comment letting me know you're joining!
Have you finished yet? What has been your favorite part of the book so far? What is something that has stood out to you or that you have learned about Psalm 23? Or are you reading a different book? Let me know what it is and what you think of it!
Also, for those of you who are doing the reading challenge, let me know by March 31 if you completed the challenge. That way your name will be in the list of readers that will be included in the announcement of April's book. Send me an email at hannah@morethanjustreading.com, or leave a comment on this post to let me know.