Egyptian history is fascinating to me, and has been for quite a long time, since I was around twelve. I attribute that to the segment of World history class where we studied ancient Egypt. There were three things we did that made it especially fun and memorable.
We had real Egyptian papyrus to draw on and write our names on with Egyptian hieroglyphs. The King Tut exhibit was touring the U.S. at that time and came to an art museum near us, and we were able to attend. And Mom read aloud to us The Cat of Bubastes by G. A. Henty.
Each of these activities were so much fun. Even though I'm not very good at art, I enjoyed trying to draw an Egyptian style picture on the papyrus, and my name in hieroglyphics turned out pretty well. The Egyptian exhibit was definitely worth seeing. I remember seeing the canopic jars, amulets, and other artifacts.
I still remember different customs and traditions that we learned about in The Cat of Bubastes. The neck benches they used for sleeping on were one thing that made an impression on me. They slept with their neck on a curved bench, and there was nothing under their head.
Sounds most uncomfortable. I also remember the interesting custom they had of both men and women shaving their heads and then wearing wigs. Supposedly, it was cooler that way.
The story was interesting and exciting, and I better remembered the pieces of information I learned because of it being a story. Which leads us into today's post: Historical Fiction versus Biographies. Are they both necessary? Is one better than the other? Can we learn different things from them? Let's find out!
Historical Fiction Versus Biographies
We will begin with historical fiction and its benefits.
Written in story form
Contains conversation
Potentially more exciting
Easier to remember
Good introduction to history
Historical Fiction is written in story form.
Not all biographies are interesting. Some are, but I will be discussing that later on. Historical fiction is written to be interesting, to hook the reader and keep them turning the pages. It's intended to be exciting and not merely informative, as some biographies are.
Because of the way historical fiction is written, readers would be less likely to put down a book unfinished than they would a not-so-interesting biography. They would be more likely to read the book in its entirety and get the historical content along with the story.
It contains conversation.
Many biographies have little or no conversation in them. What hooks many readers and keeps them engaged is conversation. If a description or account of something is getting long and tedious, I have a tendency to skim it until I come to conversation.
It's not a good habit, I know, and I don't do it all the time, but my mind does sometimes have a hard time focusing on long descriptions.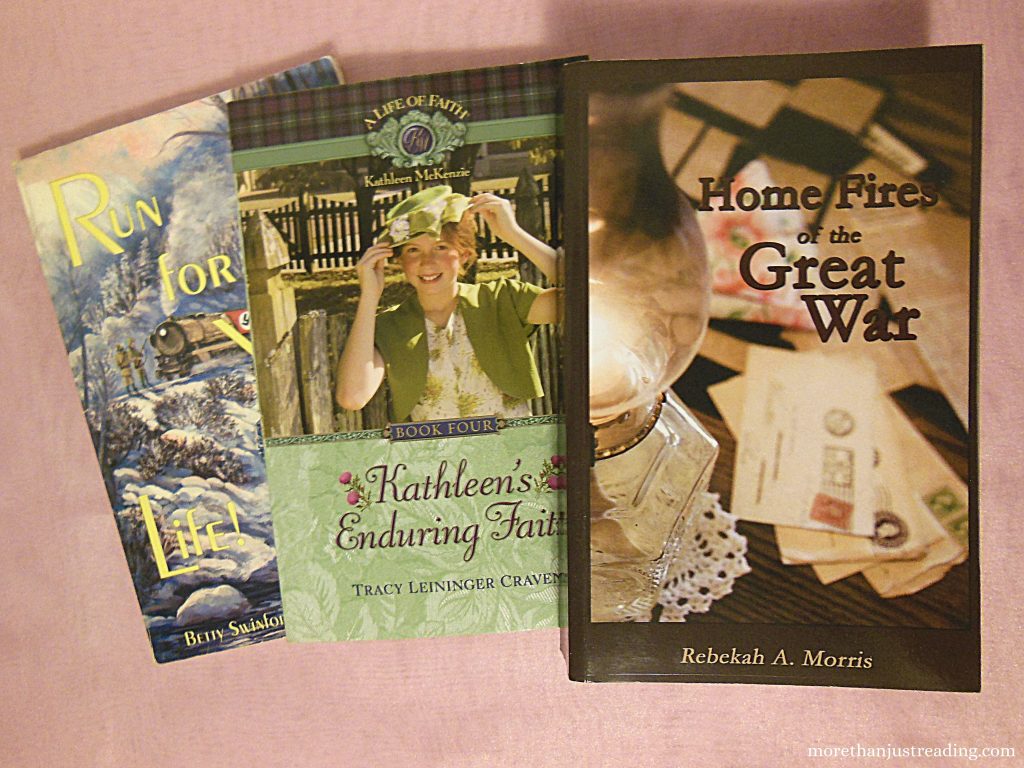 Historical fiction, since it is a story, usually has a good amount of conversation, helping the story to move along, and holding the reader's interest. Depending on the book, there will be more or less conversation, but I have never read one that had none. Have you?
Historical fiction is potentially more exciting.
Some biographies are not all that interesting because the person it is about did not have that exciting of a life. They may have done great things, but not had a lot of exciting experiences for their biographer to write about.
In historical fiction, nearly anything can happen. If it is about a war, the main character can get wounded, captured by the enemy, sent on dangerous, daring missions, and have other thrilling escapades.
There are plenty of people who have really had lots of exciting things happen to them, but it doesn't happen to everyone. Historical fiction will generally be exciting, but not all biographies will be exciting, though some are.
It can be easier to remember.
Remember what I said earlier about what I remember from The Cat of Bubastes? I still remember quite a bit from it. Now, I did re-read it a few years ago, but those tidbits I shared, I still remembered when I re-read it.
I think historical fiction makes a longer-lasting impression on the reader. When the story is good, you will remember it. And in remembering the story, you will also remember real events from history that were included in the story.
Historical fiction gives a good introduction to history.
If someone is not used to studying history and reading historical accounts, historical fiction would be a good way for them to begin. The story line will pull them in, and make the historical parts interesting.
Some of the earliest history-related books I can remember reading would be classified as historical fiction, children's stories about George Washington, Florence Nightingale, and traveling the Oregon Trail.
Those books helped to give me a taste for history, something I still love today. The easy-to-follow stories taught me about life in other eras, got me familiar with the names of famous people, and showed me that studying history is fun and interesting!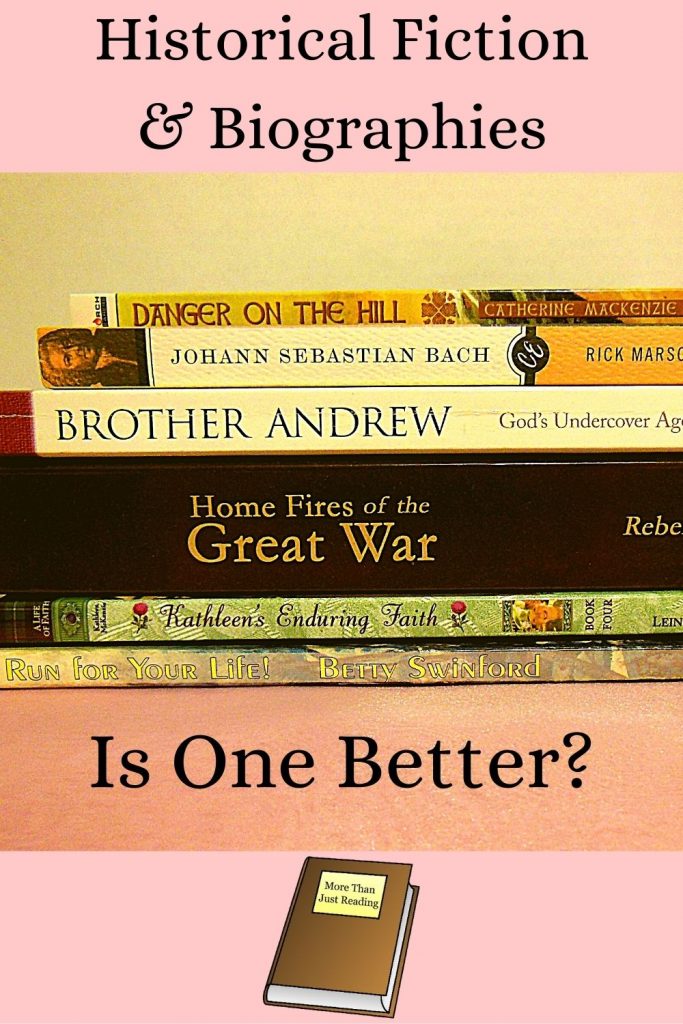 Now let's look at the benefits of reading biographies.
True
Less confusing
Can be just as interesting
Biographies are true.
That's a big plus, isn't it? When we know a story is true, we are a lot more likely to be impressed by seemingly impossible events that took place. So when we read a biography of a famous or not-as-famous person, if something exciting happens, we can enjoy it all the more, knowing that it really happened.
I've read missionary stories that were true and that were fictitious. Personally, I enjoy the true ones more. The fictitious ones were interesting, and lots of exciting things happened. They escaped from cannibals, fierce gorillas, and a leopard. But all the time I was reading the stories, I knew these events did not really take place.
But when I read missionary biographies, I read them knowing that the exciting events in them really happened. David Livingstone was really attacked by a lion. Gladys Aylward was really shot by Japanese soldiers. Brother Andrew really smuggled Bibles into countries closed to Christianity. It's faith-building reading biographies, seeing how God has cared for His children, knowing He can and will do the same for me.
Biographies are less confusing.
When I say biographies are less confusing, I mean that you don't have to sort through them, picking out which parts are made up and which really happened, as you do in a historical fiction book.
I remember listening to the audio-book of In Freedom's Cause, another book by G. A. Henty (I like his books in case you haven't noticed). This book is about Scotland's wars for independence in the 13th and 14th centuries.
In the book, it told how the fictional main character arranged a meeting between William Wallace and Robert the Bruce. It left me wondering, did that meeting really happen? Who really arranged it? Was Bruce really captured and taken to meet Wallace? What really happened?
Other questions like this arise in historical fiction when fictional characters are interacting with real characters. But with biographies, it is different. As much as possible, they tell what really happened and do not include fictional people. They are written to give facts and not fictitious stories.
They can be just as interesting as historical fiction.
A well-written biography can be just as interesting as the most exciting historical fiction novel. Earlier this year, I read a biography about Hudson Taylor. It was so exciting, I sometimes had a difficult time putting it down. And I learned so many things about him I didn't already know, even though I was fairly familiar with his ministry in China.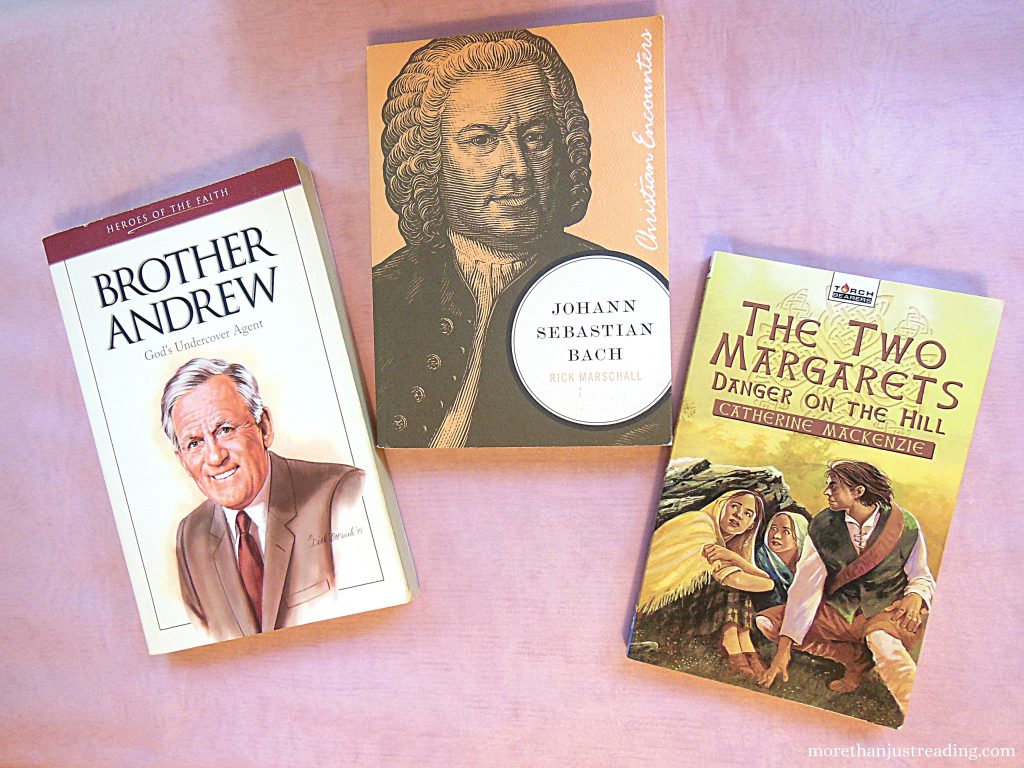 Biographies and boring are words that do not have to be associated with each other. I'll admit that some biographies are boring. But they don't have to be. If your experience with biographies has left you feeling that they are boring, don't give up reading them. There are lots of interesting, exciting biographies out there!
Another good one I read recently was about Wilfred Grinfell, the missionary doctor to Newfoundland and Labrador. There were all kinds of exciting stories in it, experiences he had in Canada.
Conclusion
Which is better? Personally, I think biographies are better since they are true, educational, and informative. I don't have a problem with historical fiction; in fact, I really enjoy reading historical fiction.
But be careful that you don't read so much that you get mixed up on what is true and what isn't. Younger children should probably not have a lot of historical fiction since they are not yet old enough to tell what is real and what is not.
What about you? Which do you think is better? Which do you most enjoy reading? Have you found any good biographies that were just as interesting and exciting as a historical fiction novel? Let me know! I'm always on the lookout for good biographies.