Happy New Year! 2021 is here! Since it's New Year's Day, you're probably expecting a post about goals, resolutions, and plans for the year. Well, I guess you're kind of right. I am sharing one of my plans for the new year, but this post isn't dedicated to the normal New Year's topics. That will be coming on Sunday. Today, I'm sharing something exciting that I am beginning here on the blog.
In case you hadn't noticed, I love reading! It has been one of my absolute favorite pastimes for almost as long as I can remember, probably ever since I learned to read. But I've discovered one thing as I've reached adulthood: life has a tendency to become so busy that things like reading get pushed to the side. This isn't always a good thing, and I am here with a challenge for you, a challenge to get you reading more.
One of my goals in 2020 was to read at least one book every month. And though many of my 2020 goals were disrupted (I think you know why), that was one goal I accomplished. I read at least one book each month, and some months I read more than that. But would I have read that much if I hadn't challenged myself to it? Probably not.
Since my challenge helped me so much, I thought I would share it with you. I'd like to invite you to join the More Than Just Reading Monthly Reading Challenge.
At the beginning of each month, I will be doing a post, telling what our book of the month will be and providing some different reading options if you don't already have that book. Of course, if you would rather, you can choose a book of your own to read. That is always an option, though it will be fun if we read the same book together.
If you want to participate, just leave a comment and let me know. Sometime around the middle of the month, I will do a post where I discuss the book, sharing what has stood out to me. You can share your thoughts then, too. If you join the challenge and complete it, let me know because the first of every month, when I tell what our new book is, I will be telling who completed the previous month's reading challenge. And you just never know, some months there might be a little gift that I will give to each participant who completed their book (There will almost for sure be one if you complete the very first monthly reading challenge!).
The books I choose will be clean, wholesome, and pleasing to the Lord, though I might add that because I choose a book does not mean I approve of everything that is done in it.
By now you're probably saying, "Enough with the formalities. What's our first book?"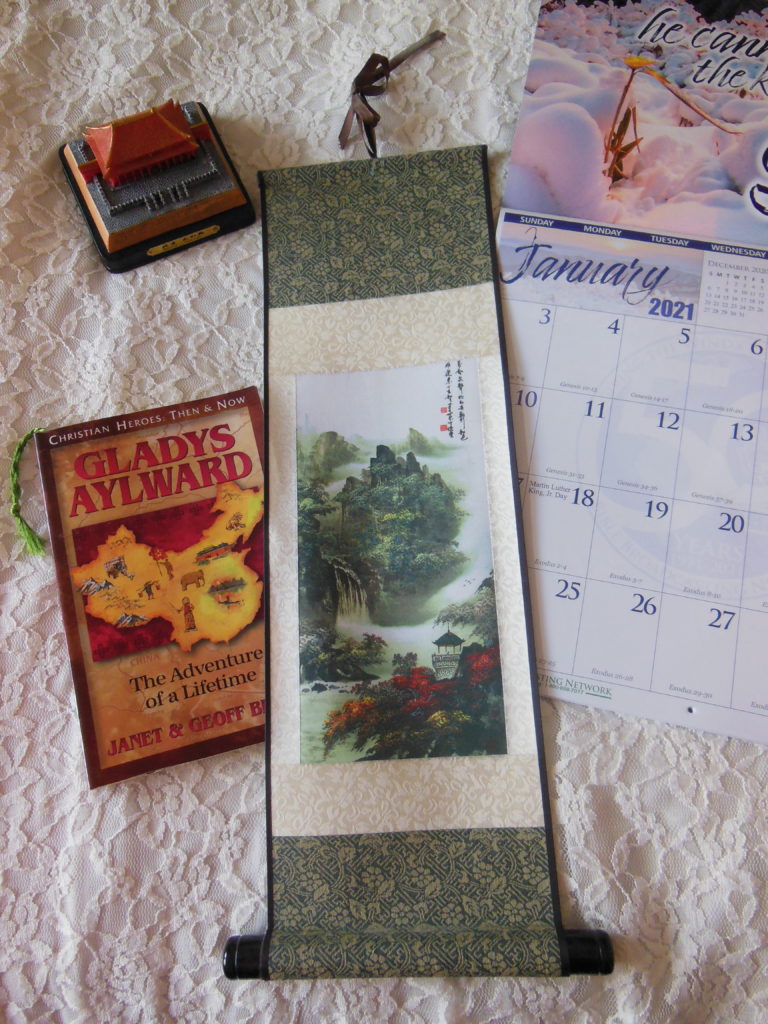 Our first book is Gladys Aylward: The Adventure of a Lifetime by Janet and Geoff Benge from the Christian Heroes Then and Now series published by YWAM. Gladys Aylward is one of my favorite missionaries. She was completely dedicated to serving God on the mission field, and she didn't give up, even when she was caught in the middle of World War II and the Communist takeover in China.
This book is not your typical dry, dusty biography either. It is interesting and exciting. As a caution to younger readers, there are two or three places where torture and execution are mentioned.
You can borrow the e-book here for free. Or you can buy it from the publisher here. The website has several options including e-book and MP3 downloads and CDs (Listening to the audiobook does count as having read the book and completed the challenge). Another option is to read another biography about Gladys Aylward that you already have.
If you're finding this post and it's not the beginning of the month, feel free to go ahead and jump in! Or you can subscribe to the blog by email and get notified when next month's reading challenge rolls around. This is going to be an every month occurrence for a long time to come, I hope!
So are you interested in joining our reading challenge? All you have to do is leave a comment below and let me know, or send me an email at hannah@morethanjustreading.com. I hope you join!