A girl follows her mother through a bookstore, browsing the shelves, looking for the perfect Christmas gift for her friend, Grace Reid.
"I want to get her something reading-related, since she loves reading so much," she thinks to herself. "But what should it be?"
She stops at a shelf with some miscellaneous items and looks at them. "Hmm, is there anything here she would like? I want it to be something she'll really enjoy." Not finding anything, she moves on. "I don't see anything here I especially want to get her. Maybe something personalized would be better."
A short time later, after her mother has made her purchase, they leave. The girl has not found a gift for Grace. And she can't think what to get.
Do you ever have this problem: you don't know what to buy for someone, either a family member or a friend? Well, if that person is an avid reader, I have some suggestions of gift ideas for book lovers. Some of the suggestions are cheap, while others are more expensive, giving you choices depending on your budget, who the present is for, and whether or not you already have something for them. We'll begin with the cheaper ideas.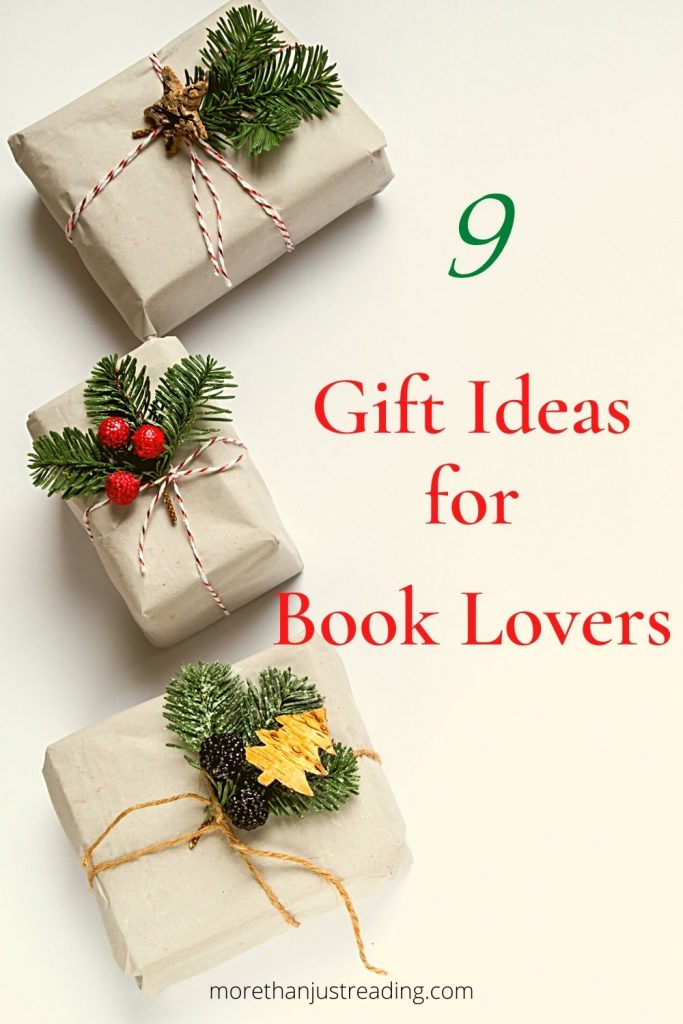 Inexpensive Gift Ideas for Book Lovers:
Bookmarks
A reader can never have too many bookmarks. They get lost, or they may all be in use at the same time, or after awhile they wear out. Pretty bookmarks add to your reading experience. So if you want a cheap Christmas gift idea, I suggest bookmarks.
If you make them yourself, they can be free. Or you can buy them for not much money. I like magnetic bookmarks, and there are lots of different styles of them.
Another kind of bookmark you could buy are the printable bookmarks to color that I make and sell. If you have a lot of friends you would like to give a little something to, these would be perfect for that. You just buy the PDF and can then print as many bookmarks as you want.
There are several different options available:
Birds, Flowers, & Bible Verses Bookmarks
Music, Hymns, and Bible Verses Bookmarks
Christmas Carol Bookmarks in Color (No need to color. Just print, cut out, and they're ready to give!)
Book-light
Not all book-lights are cheap, but there are plenty that are. Book-lights are good for in the car or any time you want to read in the dark. Just make sure the reader you give a book-light to is responsible and won't make it a habit to stay up late reading.
Fun Snacks & Drinks
I enjoy having a little snack, like chocolate, when I am reading. And my afternoon cup of coffee is often combined with some reading. If the reader you are shopping for is like me, they will enjoy getting their favorite chocolate or candy and some hot chocolate mixes, coffee, or tea. Especially in the wintertime, having a hot drink while reading is such a relaxing activity.
Average-priced Christmas Gifts for Readers:
E-books or E-book Gift Card
If you know the kinds of books your reader friend enjoys reading, you could get them some e-books for Christmas. Or if you're not sure what they enjoy or what books they have, you could get them a gift card for their favorite e-book store. They'll love the opportunity to pick out some new books to read.
New Books by a Favorite Author
Does your friend's favorite author have a new book out that they haven't had a chance to get yet? Go ahead and buy it for them! You might not see them for a little while as they proceed to devour the book, but they will love the gift!
Coffee Mug
This goes along with the fun drinks. Get a coffee mug for your book lover. There are lots of coffee mugs with reading-related sayings on them. Or you could get creative and order a personalized mug, maybe one with a quote by their favorite character or a conversation that a couple characters have. There are endless possibilities with personalized gifts!
More Expensive Gift Ideas for Book Lovers:
E-reader with a ready-to-go library
If your book lover doesn't already have an e-reader, you could get them one. And you could go ahead and put several books on it, maybe books you know they will enjoy or a few books you like and want them to read.
Cozy Blanket
In the winter, with a cup of coffee or hot chocolate in hand, there's nothing more cozy than curling up under a soft blanket to read that new (or old) book. It just takes reading to a whole new level of enjoyable.
Hammock or Swing
Once winter is over, the cozy blanket will probably be packed away. Then a hammock or hammock swing would be a very enjoyable gift for a reader to have. I have both, and when the weather is nice, I really enjoy taking my book out to my garden and reading in one of them.
I hope these gift ideas for book lovers were helpful for you! Let me know which ideas you liked most. Are you a book lover? Which gifts would be most meaningful to you? Let me know in the comments!