Bible study and bookmarks. Is there a connection? Until recently, I wouldn't have been able to come up with a good connection, except that you use a bookmark to mark where you are in your Bible study.
But that changed one morning while I was having my personal devotions. And in today's post, I'll tell you what happened and how it affects you!
Where did the idea come from?
---
One morning a week or so ago, I was reading in Ephesians, where I have been spending a lot of time recently. The verses that stood out to me that morning were Ephesians 6:1-3.
"Children, obey your parents in the Lord: for this is right. Honour thy father and mother; (which is the first commandment with promise;) That it may be well with thee, and thou mayest live long on the earth."
I was reflecting on what these verses mean for me now that I am an adult. There are no age limits in the Bible for honoring our parents, meaning it is an on-going command, even when we are no longer living at home or our parents are no longer living.
So, I was wondering what honoring my parents looks like, now that I am an adult. I decided to get out the Webster's dictionary and see what the definition of honor is. (Side-note: not all dictionaries are good to use for Bible study, since words change in meaning over time, and the definitions today may not reflect what the words mean in the Bible. But the Webster's 1828 dictionary is a good one for looking up what Bible words mean.)
I found the definition for honor and it led me to another word: deference. Both definitions were really good, and helped to answer my question about how I should be honoring my parents as an adult child. (If you would like to hear more about this, let me know in the comments, and I will do a devotional on honoring our parents.)
After looking up the definition, I got to thinking. I wanted to remember these definitions when I read this passage again. But how could I do that? The margin in my Bible is too narrow for writing much more than a word or two.
It was right about then that the Lord gave me an idea, an idea to solve this problem, and something to share with you, to help you in your Bible study. The idea was Bible study bookmarks.
So what are Bible study bookmarks?
---
Bible study bookmarks are bookmarks with lines to write on, instead of a pretty picture or Bible verse or quote. I use them for writing word definitions, commentary quotes, or my own thoughts, and then I leave them at the page with the verse they relate to. When I come back to that passage later on, I can see what I wrote on the bookmark, what God spoke to my heart. It can serve as a reminder of what God has taught me.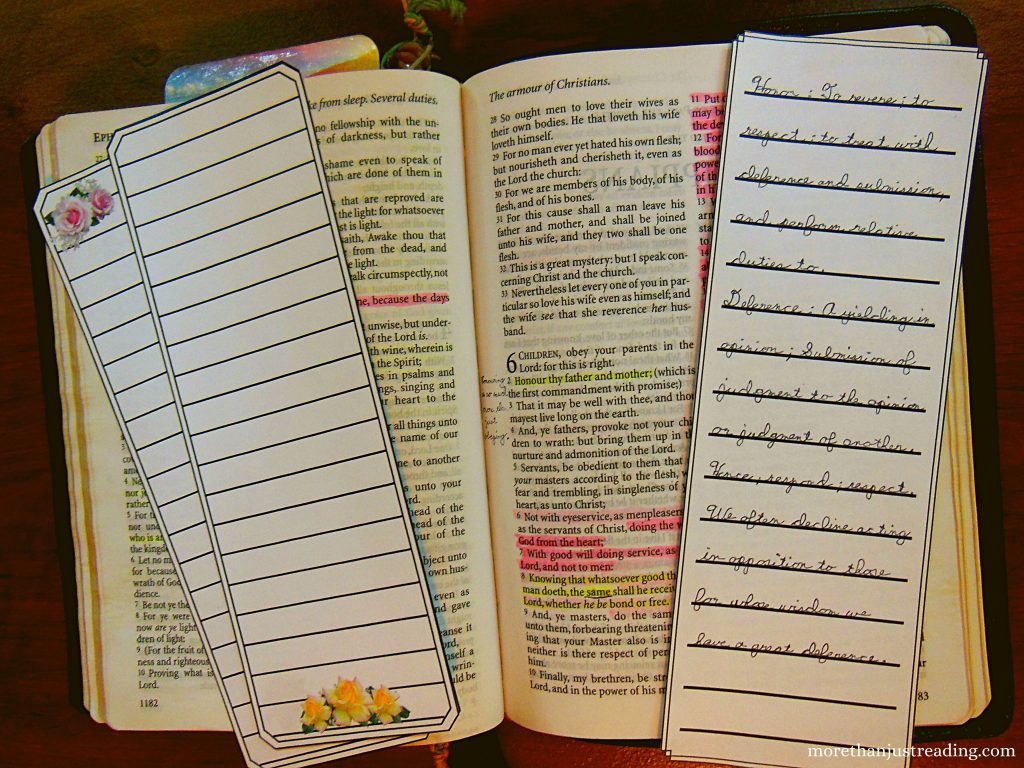 Now, why am I telling you all this? So you will go and make your own Bible study bookmarks? No, I'm telling you this, because I want to give you the bookmarks that I have made. I want you to be able to use them and be helped by them as I have been. I haven't been using them long, but I have already been helped by going back and rereading what I wrote.
How do I get them?
---
Just fill out the form below to get access to the freebies archive. You will receive an email with the password. Then visit the Free Printables page, enter the password, and that will take you to the freebies archive where you can download the PDF with the printable Bible study bookmarks.
Are you already subscribed by email but don't know the password? Then go to one of the old emails, and you will find the password for the archive there.
I hope you download and use these bookmarks and are helped by them as much as I have been. They have been a blessing to me, and I am so thankful to God for giving me this idea. Oh, and I would add that since I plan to use a lot of these over time, I print them on regular paper rather than cardstock, so they don't make my Bible too full.
If you decide to use these bookmarks in your devotions, let me know. I would love to hear how you like them! Just send me an email at hannah@morethanjustreading.com, and I will send you a reply.