Well, the third Tuesday of the month has come once again. What does that mean, you might ask? It means that it's time for our Reading Review of A Peep Behind The Scenes, May's book! I hope you have enjoyed it as much as I did.
It's a sweet story with both sad parts and happy parts, and I really like the ending. In fact, I'd like to share a part of it with you later on.
Sharing the Gospel
---
There were two main lessons that stood out to me reading the book this time. The first one was Rosalie's eagerness to share about her Good Shepherd with everyone she met.
If anyone was open to hearing about her picture of the Good Shepherd looking for the lost sheep, she was more than willing to tell them about it. And she saw fruit for her labors. God used her to bring other lost sheep to Him.
And don't forget: it was Mr Westerdale who gave her the picture in the first place. He had felt discouraged with his work at the fairground, but he didn't know at that time what good his work had done.
We don't always see how God uses what we do for Him, and it can be tempting to quit when we see few results. When we feel discouraged, like we aren't doing much good, it would be good for us to remember Galatians 6:9. "And let us not be weary in well doing: for in due season we shall reap, if we faint not."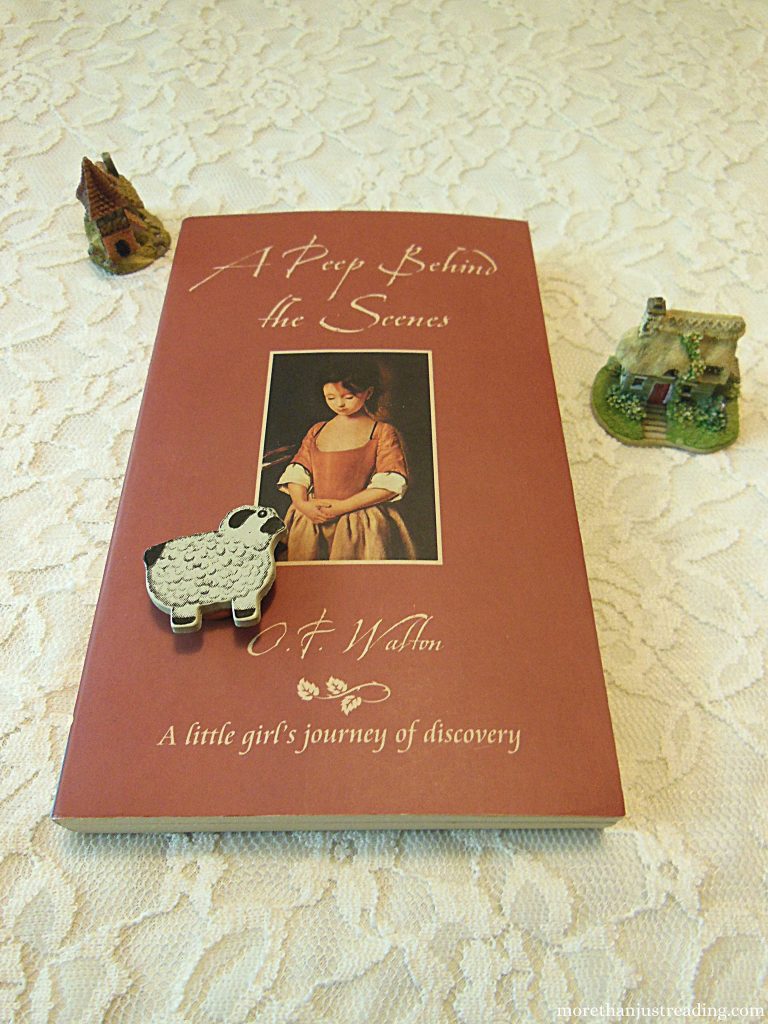 Saying "No! to Sin
---
The other lesson that stood out to me was the importance of staying far away from sin, no matter how attractive it looks. Sin may look pleasing to us. Just like the gold and glitter of the fairgrounds, sin has a certain glamour.
But just like what really went on behind the scenes at the fairground, there is a totally different picture behind sin when once a person has yielded to it.
Here are the closing lines of the book taken from Project Gutenberg. (Don't worry, though; they don't spoil the ending if you haven't finished yet.)
What Rosalie Learned
"Rosalie did not grow tired of her green pasture, nor did she wish to wander into the wide world beyond. As she grew older, and saw from what she had been saved, she became more and more thankful.
"She was not easily deceived by the world's glitter and glare and vain show; for Rosalie had been behind the scenes, and knew how empty and hollow and miserable everything worldly was.
"She had learned lessons behind the scenes that she would not easily forget. She had learned that we must not trust to outward appearances. She had learned that aching hearts are often hidden behind the world's smiling faces. She had learned that there is no real, no true, no lasting joy in anything of this world.
"She had learned that whosoever drinketh of such water—the water of this world's pleasures and amusements—shall thirst again; but she had also learned that whosoever drinketh of the water which the Lord Jesus Christ gives, even His Holy Spirit, shall never thirst, but shall be perfectly happy and satisfied.
"She had learned that the only way of safety, the only way of true happiness, was to be found in keeping near to the Good Shepherd, in hearkening to His voice, and in following His footsteps very closely.
"All these lessons Rosalie learnt by her PEEP BEHIND THE SCENES."
What we can learn from A Peep Behind the Scenes
Rosalie had seen enough of the world to recognize its danger. Now, that does not mean we should venture out and see for ourselves. Don't forget, that was the life she was born into. She did not have any control over her environment, and she left as soon as she could.
If God has blessed us with a Christian home and Christian parents who seek to protect us from the dangers of sin, we should be extremely grateful. And we should not want to experiment with sin, to find out for ourselves if it is really so bad. That is only a recipe for disaster as Rosalie's mother found out.
Instead, we should trust God, that He does know best and knows what we should and shouldn't do. We should also trust our parents, even if they might sometimes seem to strict. They have our best interests at heart and want to protect us.
How's the Challenge Going?
---
Let me know: how far are you in A Peep Behind the Scenes. Have you started yet? It's never too late to jump in and join us in our one book a month reading challenge if you haven't already joined! Just send me an email or leave a comment letting me know you're joining!
Have you finished yet? What has been your favorite part of the story so far? What is something that has stood out to you or that you have learned? Or are you reading a different book? Let me know what it is and what you think of it!
If you're new to the monthly reading challenge, the first of the month I choose a book for us to read together. It might be a biography, fiction story, or non-fiction work.
If you're just now learning about the reading challenge and are interested, feel free to go ahead and jump in! Or you can subscribe to the blog by email and get notified when next month's reading challenge rolls around.
Also, for those of you who are doing the reading challenge, let me know by May 31 if you completed the challenge. That way your name will be in the list of readers that will be included in the announcement of June's book. Send me an email at hannah@morethanjustreading.com, or leave a comment on this post to let me know.