Well, we're up to the letter Q in our series Praising God from A to Z. Is there anything beginning with Q to include in this post? I found one thing, and I'm excited to share it with you! The Bible is full of beautiful quotes that minister to us no matter what situation we are going through. We can always find something to bless and encourage us. And today, I'd like to share a few of my favorite Bible verses with you.
Quotes from the Bible
My favorite passage is Psalm 91. I won't include the whole thing, but I am going to share a few verses from it.
Psalm 91:1-7
He that dwelleth in the secret place of the most High shall abide under the shadow of the Almighty.
I will say of the LORD, He is my refuge and my fortress: my God; in him will I trust.
Surely he shall deliver thee from the snare of the fowler, and from the noisome pestilence.
He shall cover thee with his feathers, and under his wings shalt thou trust: his truth shall be thy shield and buckler.
Thou shalt not be afraid for the terror by night; nor for the arrow that flieth by day;
Nor for the pestilence that walketh in darkness; nor for the destruction that wasteth at noonday.
A thousand shall fall at thy side, and ten thousand at thy right hand; but it shall not come nigh thee
Another Psalm that has ministered to me quite a bit is Psalm 37.
Psalm 37:3-7
Trust in the LORD, and do good; so shalt thou dwell in the land, and verily thou shalt be fed.
Delight thyself also in the LORD; and he shall give thee the desires of thine heart.
Commit thy way unto the LORD; trust also in him; and he shall bring it to pass.
And he shall bring forth thy righteousness as the light, and thy judgment as the noonday.
Rest in the LORD, and wait patiently for him: fret not thyself because of him who prospereth in his way, because of the man who bringeth wicked devices to pass.
I wrote a blogpost about this passage a while back: Trust, Delight, Commit, Rest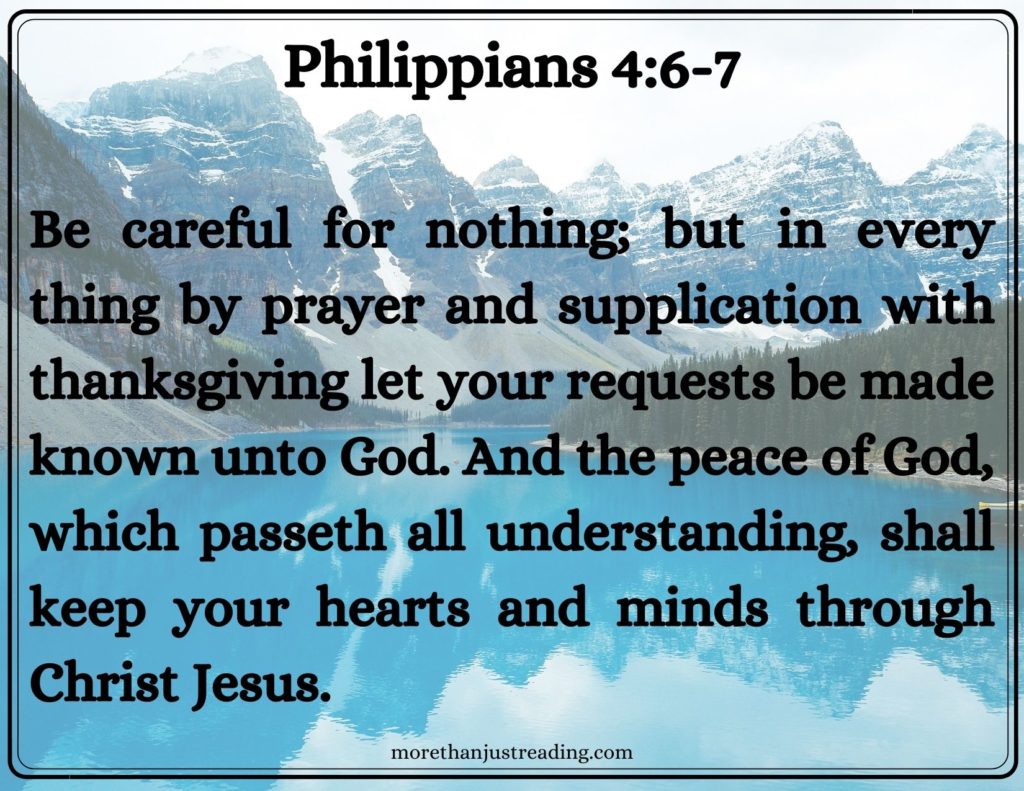 1 Thessalonians 5:18
In every thing give thanks: for this is the will of God in Christ Jesus concerning you.
This verse reminds us to give thanks in everything. That means in the good situations and the ones we view as bad. No matter what our situation, we are to be thankful and praise God for what He has allowed in our lives.
John 15:5
I am the vine, ye are the branches: He that abideth in me, and I in him, the same bringeth forth much fruit: for without me ye can do nothing.
It is only when we have Christ living in and through us that we can be fruitful Christians.
1 Peter 1:3-5
Blessed be the God and Father of our Lord Jesus Christ, which according to his abundant mercy hath begotten us again unto a lively hope by the resurrection of Jesus Christ from the dead,
To an inheritance incorruptible, and undefiled, and that fadeth not away, reserved in heaven for you,
Who are kept by the power of God through faith unto salvation ready to be revealed in the last time.
I especially like verse 4 where it says we have an incorruptible inheritance reserved in Heaven. What a wonderful promise from God!
Conclusion:
I hope these verses were a blessing to you as they were to me while putting this post together. What is one of your favorite quotes from the Bible or a verse that has been especially meaningful to you lately? Please share it with us in the comments!