Today is a special holiday! You may be checking the date and thinking, "I can't remember any holiday on April 23." Well, this holiday isn't widely known, though it should be. It's World Book Day!
And I'm celebrating World Book Day by participating in a collab with several of my blogging/writing friends, hosted by Autumn from Bursting Through the Darkness. I'll be doing the Fruit of the Spirit Book Tag and answering some book-related questions from the other gals. They'll each be doing a similar post on their blogs, so be sure to check them out!
So who's in this collab?
Autumn from Bursting Through the Darkness
Heaven from The Book Cubicle
Jovey from Jovey's Journal
Katja from Little Blossoms for Jesus
Alright, now let's get to the tag.
The Fruit of the Spirit Book Tag
Love – Name your top three favorite book couples
John and Anna Olesh from Hidden Rainbow by Christmas Carol Kauffman, Pa and Ma Ingalls from the Little House books by Laura Ingalls Wilder, and Norman and Jenelle Mavrich from the Triple Creek Ranch series by Rebekah Morris.
Joy – Name a character who went through horrible trials. Were they joyful? Would you have been if you went through the same?
A real book character who comes to mind is Betsy Ten Boom from The Hiding Place by Corrie Ten Boom. She went through so much, and stayed joyful and had an attitude of love and forgiveness towards those who treated her so cruelly. I probably would have been more like Corrie, but if I did go through something like that with joy, it would be only because of God's grace and strength for the situation.
Peace – Name a book where a river or body of water is important to the story.
Aurie's Wooden Leg by Lionel A. Hunt. And the river in the book was actually named the Peace River!
Patience – Name a book you anticipated/are anticipating reading.
Don Wood by Rebekah Morris. I've loved the Woodbreak series, and I can't wait for the next book to be available!
Kindness – Name a selfless character.
Paula from Paula the Waldensian by Eva Lecomte. That was one of her main characteristics: how selfless she was.
Goodness – Name a book that is full of good lessons.
As In a Mirror by Isabella Alden. That's got to be one of my favorite Pansy books!
Faithfulness – Name an author whose books you will always buy without question.
Rebekah Morris
Gentleness – Show us your most damaged book.
Here it is: Rainbow Garden by Patricia St. John, a well-loved and oft-read book.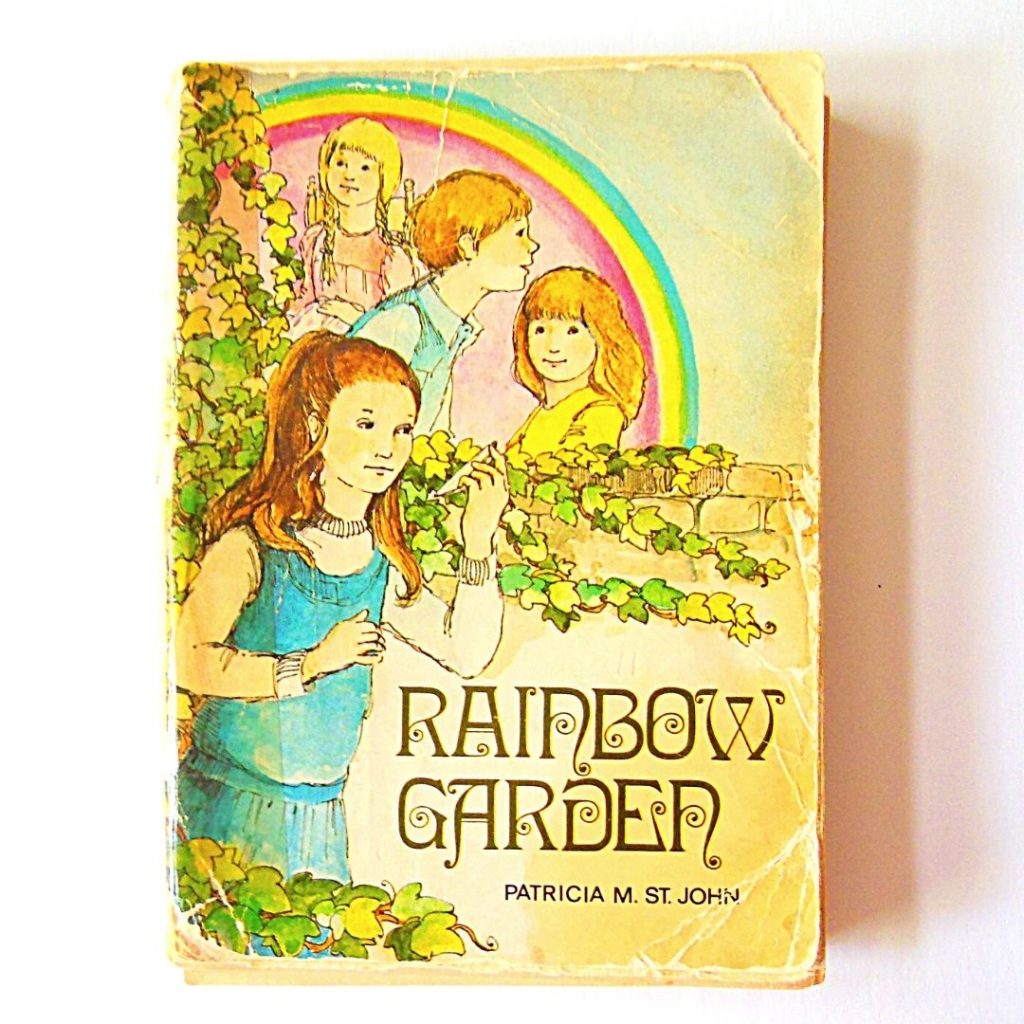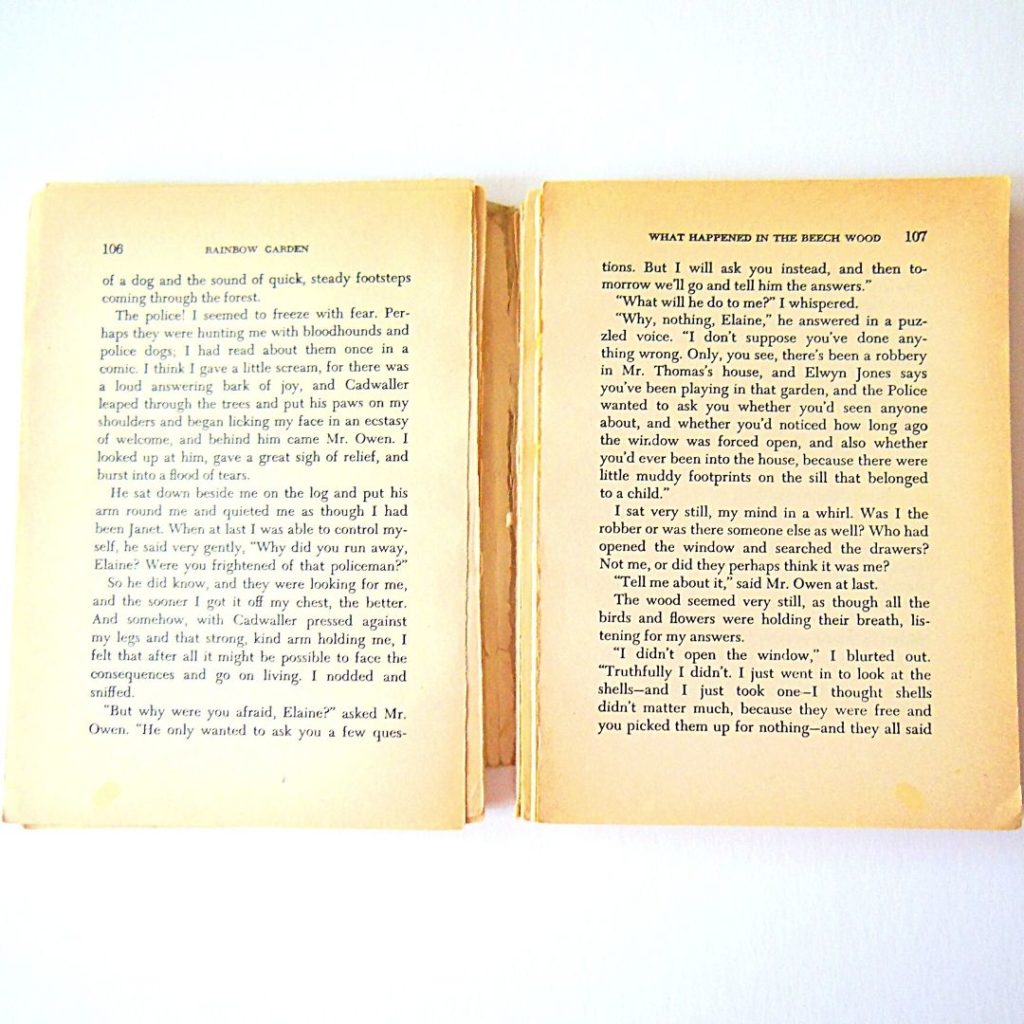 Self-control – Name the strangest place you've ever read because you couldn't wait any longer to continue the story.
Hmm, this was just the other day. I was in the middle of an exciting story, Kate's Innocence by Sarah Holman by the way, and I was waiting on the dentist to come fill a couple teeth, so I read in the dentist's chair while I waited.
Our Questions
Ok, now to get on to the questions we all asked each other.
My Question:
What is your favorite book series?
I'm going to share two. It's my question, so I can do that, right? The Baker Family Adventures by C. R. Hedgcock and Woodbreak by Rebekah Morris
Autumn's Question:
What is one non-fiction book you would recommend to everyone?
The Indwelling Life of Christ by Major Ian Thomas. This little devotional is life-changing. It has had a tremendous impact on my Christian walk with God the last few years.
Heaven's Question:
If you could only take one book with you, which book would you take?
Of course the Bible, but if I could take another in addition to my Bible, it would be…probably The Haunted Room by Charlotte Maria Tucker, since that is my all-time favorite book.
Jovey's Question:
What is a book you could re-read over and over and not get tired of?
Only one? There are so many! A series from my childhood that I still enjoy today is the Grandma's Attic series. I could and have read those books again and again without getting tired of them.
Katja's Question:
What's your favorite classic?
The Haunted Room by Charlotte Maria Tucker. If you haven't read it, I highly recommend it. It's such an exciting story and has a powerful spiritual application.
Conclusion:
And there you have it! Happy World Book Day! I hope you enjoyed this post. Be sure to go check out the other girls' posts in this collab. And feel free to answer any or all of these questions in the comments below!