The Reid house was quiet. The rooms were only faintly lit by a bit of gray dawn light. Grace Reid sat up in bed, resting on her elbow, and peered at the clock across the room.
6:00. A good bit earlier than she usually woke up.
Grace lay back down, thinking about the day ahead. She had the feeling that she should be excited about what was planned. Then she remembered.
It was her birthday! Today she was fifteen years old. Knowing there was no point in trying to go back to sleep, Grace pushed back the covers and crawled out of bed. Quietly, careful not to wake Faith, who was asleep in the other bed, she slipped over to the closet to get her clothes. Then she headed for the bathroom to change her clothes and fix her hair.
Ready for the day, she headed downstairs, her Bible and devotional book in her hand. Grace entered the living-room, which was empty as it usually was at that time of morning. Mr. Reid would have already left for work, Mrs. Reid would be having a cup of tea at the dining-room table, and Hope would still be in her room.
"What's my devotional about today?" Grace wondered, settling herself in the big recliner. She opened the little book and found the reading for March 21st.
"Psalm 37:3 and 4," she read and flipped to the passage in her Bible. "Trust in the LORD, and do good; so shalt thou dwell in the land, and verily thou shalt be fed. Delight thyself also in the LORD; and he shall give thee the desires of thine heart."
After reading the verses, she returned to the devotional. "When we trust in the Lord, we know that He will care for us, supplying our needs and being with us in every situation we face. When we are trusting Him, we can then delight in Him. The rest of that verse says, 'And he shall give thee the desires of thine heart.' Does that mean we can ask God for plenty of money, new clothes, and nice things any time we want them? No, it doesn't."
Grace smiled at this last part. "This is a good devotional for my birthday," she mused. "When I was younger I would have thought this verse meant I could have whatever I wanted. And I always thought I should get what I wanted on my birthday, at least in the way of presents." She smiled again as she remembered the birthday she turned nine, when she was completely devastated that she didn't get the doll she had so badly wanted, the doll just like the one her friend had.
Turning her attention back to the devotional book in her lap, Grace finished the daily reading. "When we truly trust and delight in the Lord, we are seeking His will for our lives. We are content with what He has given us, and we only want what He knows to be best for us. Our desires are aligned with His, so we want His will in our lives. We want what He wants to give us. And whatever He gives us, we accept willingly."
Grace closed the devotional and thought about it, how it applied directly to her. "I know I've wanted things that weren't God's best for me." Bowing her head, she prayed for more trust, for a greater desire to delight in the Lord, for contentment. With a full and happy heart, Grace headed for the kitchen to help with breakfast.
---
The day passed pleasantly. Birthdays at the Reid house were always special days. There was no school, and fun activities were planned. The morning was spent with Mrs. Reid reading aloud to the girls while they worked on their favorite handcrafts.
Grace was cross-stitching a bookmark for one of her pen-pals, Hope was crocheting a doily, and Faith was sewing a doll dress. The girls listened intently to the story and were disappointed when Mrs. Reid finally laid down the book.
"But we're just getting to the best part," Faith moaned.
Mrs. Reid smiled. "Well, you'll enjoy hearing it later on. It's nearly lunchtime, and the boys will be ready to eat."
After lunch, while Mrs. Reid and Hope prepared the special birthday meal and dessert, the other four Reid children went for a walk in the woods, accompanied by S'mores, the family German Shepherd. It was an early spring day, meaning it was cool, and many of the trees were still bare of leaves.
"There's a squirrel," Joseph called out. S'mores had also seen the bushy-tailed little animal and bounded away after it. The squirrel scurried up a tree to a branch high overhead and sat and scolded, shaking its tail.
"Come on, S'mores," called Samuel. "You can't get that squirrel."
The group continued on, enjoying the sights and the nice weather. The girls found some purple grape hyacinths, which they picked to make a bouquet.
When they reached the stream, trickling along as it wound its way between the trees, Joseph eyed it longingly.
"Remember Mom said it's still too cold to go wading," Grace reminded him.
"I know," he sighed.
S'mores didn't think the water was too cold. He splashed in the stream and chased the sticks that Samuel threw for him.
Finally it was time to head back to the house to get ready for the evening of celebrating. They trooped through the woods, the girls carrying their flowers, and Joseph bringing a long stick he wanted to make into a bow.
"Happy Birthday, Grace!" Mr. Reid was home from work, and he met the birthday girl at the door.
"Thank you, Dad," responded Grace with a happy smile and a hug.
---
Supper was one of Grace's favorite meals, cheesy enchiladas with all the trimmings.
"Do we want dessert or presents next?" Mrs. Reid asked, once the second pan of enchiladas had been scraped clean.
"Ohh," moaned Samuel. "I don't think I have room for dessert.
Mr. Reid grinned. "I don't imagine Grace would mind opening her presents now and eating dessert later."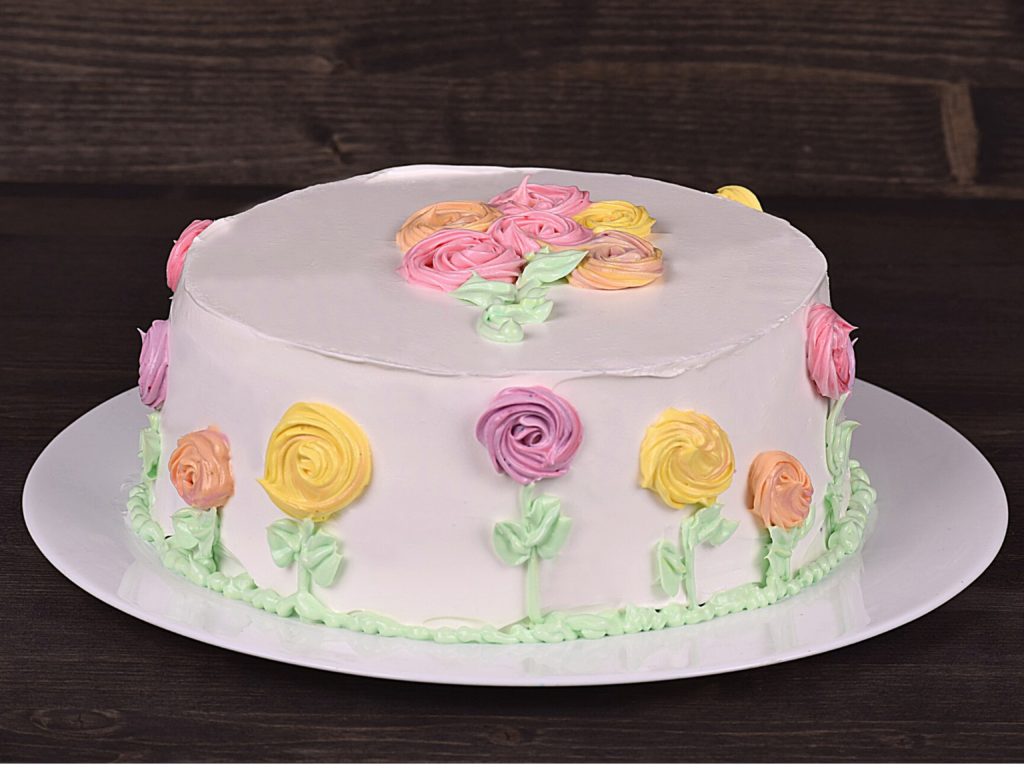 Grace returned the grin. "No, I don't mind." She had been patiently waiting, enjoying the anticipation, but now she was anxious to find out what was in the presents that had been gathering in the living-room that day.
The family assembled in the living-room, Joseph having to make a flying dash upstairs to get his present. "Alright, I'm ready," he puffed, dropping into an empty place on the couch between Hope and Samuel.
The first gift was from Hope and Faith. Trying not to tear the pretty wrapping paper, Grace opened the package. Inside she found a large book. Her eyes lit up as she saw just what book it was.
"Oh, it's the book of counted cross-stitching patterns I've been wanting! Thank you!"
The next presents were just as exciting: a new book in the series she was reading, from Samuel, caramel chocolates and a gift card from Joseph, and last but far from least, a camera from Mr. and Mrs. Reid.
"Thank you so much, everyone," Grace exclaimed, giving each of her family members a hug.
That night in bed, Grace Reid reflected on the day. It had been a wonderful birthday. "Thank you, Lord, for all your blessings," she prayed. "Thank you for my wonderful family and the way they made my birthday so special. Help me to continue to delight in you, so that what you give me is my heart's desire."