Today I'm telling you all about the lesson The Poky Little Puppy and the Sense of Touch. It is based on the story The Poky Little Puppy by Janette Sebring Lowery, a Little Golden Book classic your students will love if they don't already. The lesson is for Preschool-1st grade students and has several fun activities this age group will enjoy doing.
There are questions related to the story for the teacher and students to discuss. In the Sense of Touch Practice section, the students get to complete a sense of touch worksheet and a handwriting worksheet, play games, and do a fun dog-themed craft.
All About the Lesson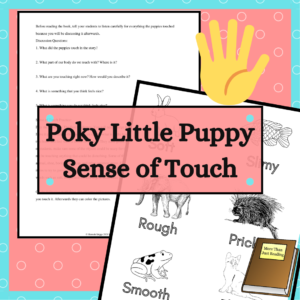 Discussion Questions
The questions on the page below are for you to ask your students. They are designed to start a discussion about the story and about the sense of touch.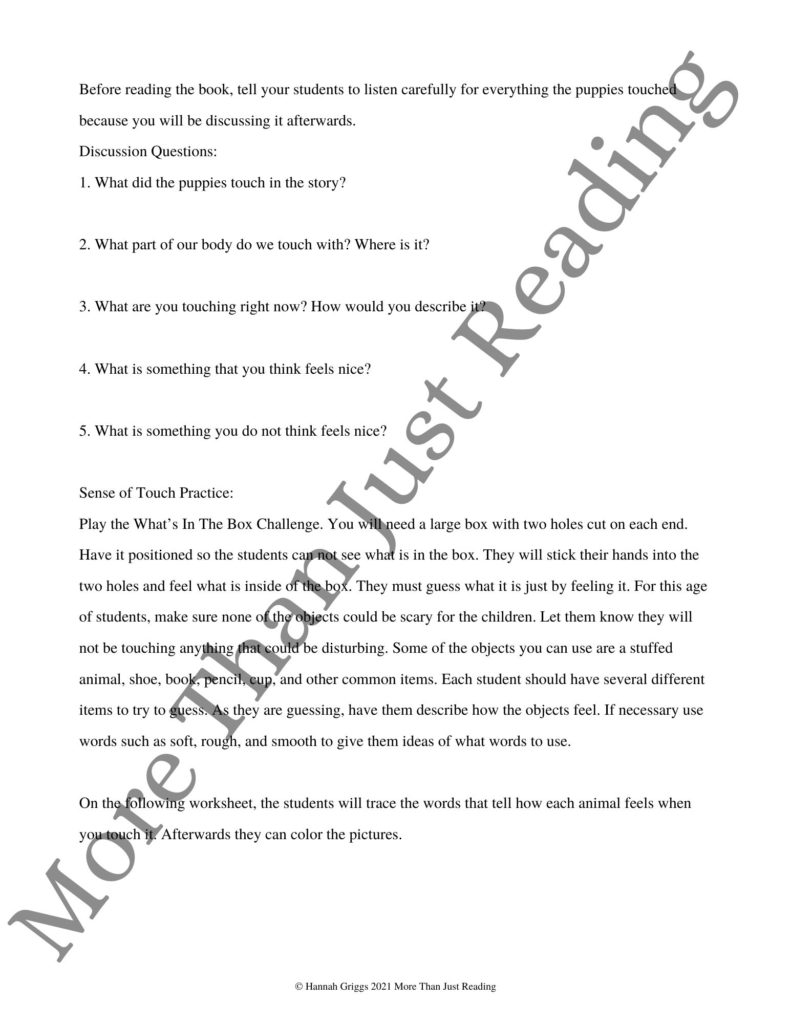 What's in the Box Challenge
Play the What's In The Box Challenge. You will need a large box with two holes cut on each end. Have it positioned so the students can not see what is in the box. They will stick their hands into the two holes and feel what is inside of the box. They must guess what it is just by feeling it.
For this age of students, make sure none of the objects could be scary for the children. Let them know they will not be touching anything that could be disturbing. Some of the objects you can use are a stuffed animal, shoe, book, pencil, cup, and other common items. Each student should have several different items to try to guess.
As they are guessing, have them describe how the objects feel. If necessary use words such as soft, rough, and smooth to give them ideas of what words to use.
Sense of Touch Worksheet
On the following sense of touch worksheet, the students will trace the words that tell how each animal feels when you touch it. Afterwards they can color the pictures. As they are completing this worksheet, you can also discuss with them other animals or items that feel soft, smooth, prickly, etc.
Interested in other fun sense of touch activities? Check out these 9 activities!
Handwriting Worksheet
Have your students practicing tracing and writing words with this sense of touch worksheet. They will be writing words that relate to the sense of touch, so you can combine learning the lesson topic with improving handwriting skills.
7 Sense of Touch Activities
In this post I am sharing some other sense of touch activities that your students will enjoy. Some of them are similar to the ones in this lesson, but there are also some different ones too.
Dog Craft
The students will color the dog picture below and then cut it out. They will glue it onto a background of colored construction paper. If they want, they can decorate the picture with sequins, glitter glue, pom poms, stickers, or any other fun craft supplies. They can also make a border for the picture from another sheet of construction paper.
Conclusion:
So, now that you know all about this lesson, here's where you can go get it: The Poky Little Puppy Lesson on Touch. I hope it will be very helpful for your students as they learn more about exploring the world around them with their sense of touch.
For more content like this, free lesson plans, and extra teaching tips, go ahead and sign up for my weekly e-newsletter. If your students would enjoy this lesson, they will enjoy the other lessons that you will have instant access to.